Teacher and Staff Appreciation Week will be Monday, May 5th - Friday, May 9th.
Here is a brief rundown of what will be happening during this event:
Monday: Staff Breakfast 7:00am (Teacher's Lounge)
Tuesday: Teacher gift and "toilet paper day",
Wednesday: Desserts 10:30-1:00 (Staff Lounge)
Thursday: Spa Day All Day (Rooms off the Media Center)
Friday: Staff Luncheon 12:10- 1pm (Teacher's Lounge)
Many, Many thanks to PTA members for putting this together for us.
Hope you all enjoy your week!
---
Volunteer To Help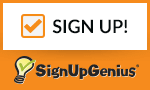 Do something special for our teachers and staff! Please sign up to donate food items for the Teacher/Staff Dessert Day.*
Volunteers are also needed for the Monday Breakfast, Wednesday Desert party and the Friday Luncheon. Sign up online at Signup Genius:
*
All food should be delivered to the Media Center. Please bring desert items to the Media Center starting Tuesday May 6, or Wednesday May 7 by 10am. (Items that need refrigerated should not be delivered until Wednesday morning.)
News / Announcements
Log Your Hours Volunteers….thank you for all of your countless hours volunteering at Curlew Creek this school year. Be sure to log your hours, so…